Unmatched Quality, Unbeatable Professionalism
Painting by Christopher gives you next level living:

Did you know you can give your kitchen that facelift it's been needing in 24 hours at competitive rates? At Painting By Christopher LLC we specialize in making dreams like this come true. When you think about the part of your kitchen that makes the biggest impression, cabinetry might not be the first thing to come to mind. Now think on it more. Cabinetry takes up a large portion of your kitchen space, and if it looks badly made or old, it ruins the overall appearance of the space.
Over the years it's been assumed that if you don't like your cabinets, you'll have to replace them. But that's not the case.
Reach out today and reclaim your kitchen's potential!
When it comes to time and money, refinishing your cabinets is the best option for someone who doesn't want to overhaul their kitchen's entire look, but just wants to freshen up and add some style to the room.
Save your time and money, and hire Painting By Christopher LLC to bring your cabinetry back to life. Your kitchen will look brand new, and your home's value will increase. Guaranteed!
Leave the boxes where they are, but remove the doors and replace them with new ones. Other design elements can be added in the process.
Instead of removing the doors entirely, just cover them with a new "face". Exposed frames are covered with a thin veneer of real wood or plastic laminate to make them look just like new.
The most affordable and time-effective option. Working with the cabinets you already have, we will make them beautiful again by filling blemishes, sanding and then applying a new stain that either matches the old one, or with a completely new shade!
When our work is complete, you will love everything you see.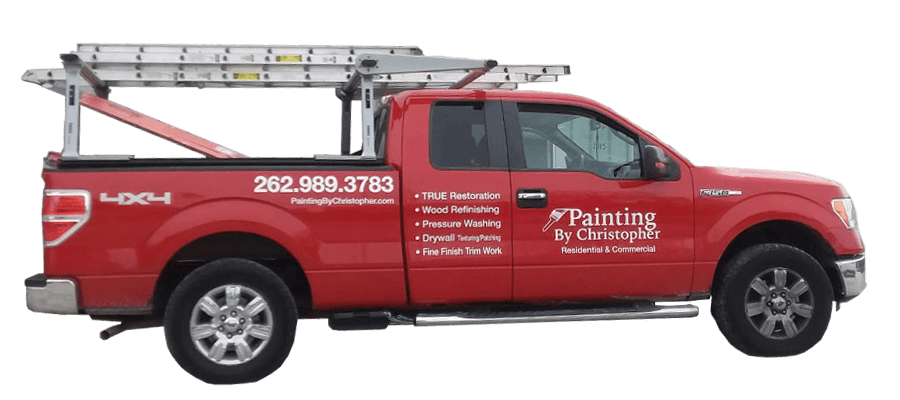 Painting by Christopher, LLC
Serving: Brookfield, Delafield, Elm Grove, Fox Point, Grafton, Hartland, Menomonee Falls, Mequon, Milwaukee, Oconomowoc, Pewaukee, Waukesha, Wauwatosa, Whitefish Bay.