Unmatched Quality, Unbeatable Professionalism
Painting by Christopher gives you next level living:

Old homes can come to us in a number of ways—purchasing on the market, inheriting from family members, or renting to one day own. One of the best parts of an older home is that it comes with hardwood floors. Unfortunately, if these floors are very old and haven't received the proper care and upkeep, they'll need some tender loving care.
We can provide the team effort and accumulated skill to solve all your hardwood floor restoration needs. We pride ourselves in our care for older homes, and passion in refinishing hardwood floors until they're pigmented, shiny and new looking.
Reach out today and reclaim your floor's potential!
Can I Refinish my Hardwood floors?
You may be looking at your floor now and wondering if it's too far gone. Lucky for you, that is highly unlikely. Hardwood floors can be professionally refinished just about every time.
If time and cost are of any consideration you'll want to choose refinishing your hardwood floors. Installing a new floor will take you two to four weeks, whereas refinishing can be accomplished in just three to five days! When it comes to cost, you're looking at at least a $3,000 dollar difference!
If the wood has sustained extensive damage, then it may be too difficult to repair. For example, if a carpet has been screwed into the flooring for many years, there may be too much damage from the screws.
If the wood floor has already been sanded down an extreme amount, we won't want to risk going any further, because it will become damaged or even start to deteriorate or not hold a finish!
If your floor has had pests in the past or currently, then the wood is likely to be brittle and just not a good bet for hardwood floor restoration.
When our work is complete, you will love everything you see.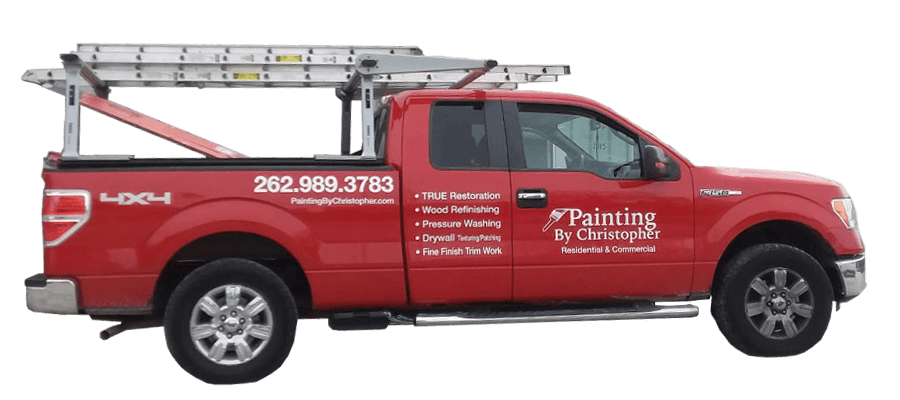 Painting by Christopher, LLC
Serving: Brookfield, Delafield, Elm Grove, Fox Point, Grafton, Hartland, Menomonee Falls, Mequon, Milwaukee, Oconomowoc, Pewaukee, Waukesha, Wauwatosa, Whitefish Bay.